Posted by Island Pursuit on Mar 15th 2023
What does "wicked preppy" mean? Anyone from the Boston area knows that "wicked" means something different here. Its origins date back to the Puritans who came to New England in the 1600's from England to escape the Church. The Puritans believed in demons and the word "wicked" was used to describe people thought to be demonic. "Wicked" originates from the Old English word "wicca" meaning witch. It was used as an adjective to describe these people which escalated with the persecution of people believed to be witches in the 1690's in Salem, MA. It has since developed into an adverb, an intensifier, to mean "really or "very"." New England can be "wicked cold" in the winter and "wicked hot" in the summer. Cape Cod is a "wicked awesome" place to be in the summer but the traffic crossing the bridge can be "wicked bad"! OK, you get the idea. We love the word "wicked" in New England!
To understand what Chatham Ivy, a company founded by two sisters from Massachusetts, Kim and Katie Noble, mean when they put "wicked preppy" on their totes and tees, we also need to go back to what "preppy" means!
Because of the more than 50 colleges and universities that call the Boston area home, the preppy style of dress is part of our DNA. Traditionally a "preppy" is someone who graduated from an expensive private prep school. You may remember Ali MacGraw referring to Ryan O'Neal as "preppy" in the movie Love Story. Boys that went to these elite prep schools dressed conservatively with khaki pants, oxford shirts, ties, striped belts and penny loafers. The look wasn't just found at these elite prep schools, the preppy style carried over to both men and women, to college campuses, high schools, the work place, etc. The preppy look wasn't just a New England look, think Lilly Pulitzer, which took brightly colored fabrics and created simple shift dresses which became the look of Palm Beach, FL in the 1960's and has stood the test of time! The preppy look is a classic, timeless look, evidenced by the fact that we can look at this image from Love Story, filmed in 1970, and see that what they are wearing is still worn today! She's wearing a trench style camel colored wool coat with cashmere gloves. He's layered a button down woven shirt with a v-neck pullover sweater and tops it all off with a tweed jacket and loosely hanging scarf. This look would still work today! The preppy look is classic; it never goes out of style.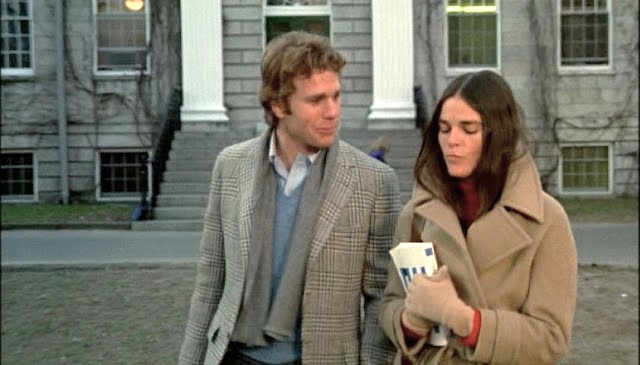 Kim and Katie Noble, the founders of Chatham Ivy, grew up with their very own preppy role model, their dad "Brownie", who passed away in 2015. In his honor, they founded a company called Chatham Ivy to celebrate his classic preppy style! Their dad was from one of the founding families of Connecticut that dates back to the 1600's. He went to Fairfield College Preparatory School, an all-male Jesuit school on the campus of Fairfield University on the coast of southern Connecticut. From there he went on to Trinity College in Hartford where he was the captain of the football team. Kim and Kate describe their dad as a "Classic New England Prep" dressed in button down oxford shirts, motif pants, belts, ties, penny loafers or Sperry Topsiders. He loved sailing, football and hunting dogs. They describe their dad as frugal, but not cheap. He taught his daughters to not be wasteful. This tradition of not being wasteful speaks directly to why the styles worn by subscribers to this lifestyle are traditional and timeless, not trendy. If you buy quality clothing that is classic and traditional, it will last for years. If you're from New England, you understand this man very well!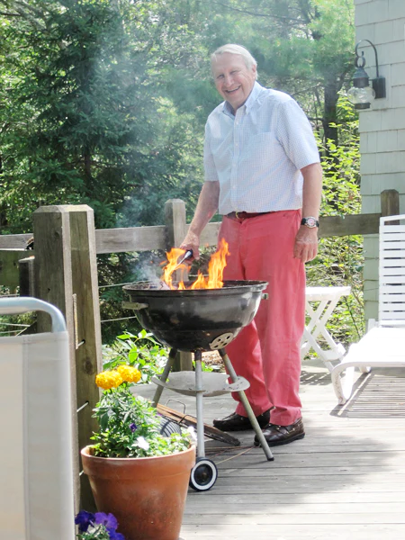 Picture of Dad, Dick "Brownie" Noble, 2013, in his "Nantucket Red" pants, button down shirt and Sperry Docksiders!
Chatham Ivy is a celebration of this preppy lifestyle with whimsical illustrations depicting families in packed wagons heading to Cape Cod, of time spent sailing, bicycling to the beach, visiting the Newport Mansions, and canoeing the lakes in Maine.
Kim and Katie grew up in Hingham, MA, a beautiful coastal community south of Boston. They summered in Lieutenant's Island in South Wellfleet in lower Cape Cod. Eventually, their parents moved to Harbor Coves, North Chatham on Cape Cod.
Kim and Katie collaborate on each design and their artist Kurt paints them. All of their shirts and tote bags are made in the U.S.A. and whether you have been to New England or not, you will fall in love with these colorful images of vintage cars, sailboats, and dogs! These images will bring you back to your own happy place, wherever that may be for you. You just can't help but smile when you see a Chatham Ivy design!
The designs used on the tee shirts and tote bags are not only fun, but they are very personal to Kim and Katie. The English Setter is their own childhood dog, Misty. The Springer Spaniel in the "Fearless Flyer" is their parents' dog Flannery. The girl on the sailboat is Katie, who spent countless hours as a kid on a sailfish and would often get stranded due to bad weather and would have to have her parents come pick her up! Chatham Ivy designs aren't just some random images used to dress up a tee or tote, they are a love story shared by two sisters celebrating their New England roots.
You don't have to be from Chatham, or New England, to love these adorable graphics. You just have to appreciate Kim and Katie's very own love story of their wonderful childhood on the coast of New England, and appreciate this special part of the country that some of us are lucky enough to call home!
Island Pursuit is proud to carry this wonderful line of fun, creative, totes and tees from Chatham Ivy! Well done Kim and Katie. Your dad would be very proud! Shop the collection of adorable tees and totes! Shop the Collection of adorable Chatham Ivy tees and totes!